Skip to Content
Multimedia Localization: Video Voice-overs, Subtitles & eLearning Modules
Even with excellence in transcription, translation, and voice talent, a localized eLearning Module must be engineered correctly so that the timing of audio and visual components within each slide or within a video – including special effects – is in sync with the new language components.
Translation of the on-screen text (OST) must be inserted and formatted. New audio files must be incorporated and synced with animation, special effects/highlights, changes in background scenery, and film. The goal is to build a new language product that has equal professionalism as the source content.
This can be the crux of the problem for many other language service companies. Global eLearning has developed this turnkey competency over several years so that our clients can expect a localized product that is professionally created and ready to use.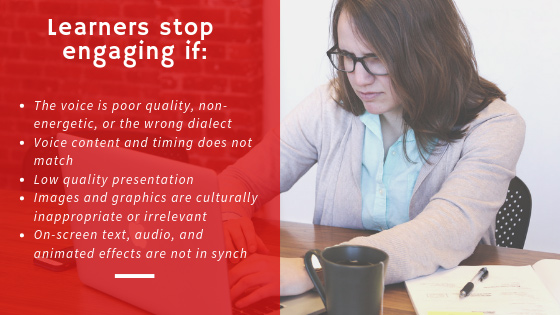 "This is has been the best translation work we have seen. Our Executives wanted to see the work you did because of the reputation you have here and they were blown away. Not to mention, you were half the price of your competitors; our conversation with you is what set you apart from the competition." — Tim, Director, ENSCO
Get Started with Global eLearning Today