Skip to Content
Driving Student Engagement
Driving Student Engagement with Localization
The Learning & Development professional is facing a growing demand for global adaptations of corporate training content. "Localization" is the strategy and process for transforming eLearning content into languages that learners want to study. Within this book are "great" questions regarding ROI, investment costs, schedules, cost drivers, and engagement techniques for successful implementation of localized L&D content.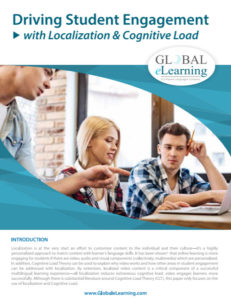 A Complete Guide for L&D Professionals
Download this Free ebook now to learn how to create an effective eLearning localization strategy that will teach, engage, and effectively convey your message to your target audience, in their own language and with their own cultural nuances. This free ebook includes answers to questions like:
What is the ROI of Localization?
What's the difference between Localization, Translation & Globalization?
Answers to the 3 Biggest Challenges for Localization
How to Create Engagement in a Completely Different Culture
Understanding How Cultures Learn Differently
Download your free ebook today!
Everyone knows that nothing goes above learning in your native language. Once content has been "localized" to your native language you comprehend the text better as a whole. This immediately incites you to participate, be proactive and really partake in the learning process. It can remove any form of passivity. Localizing training content has also proven to accelerate productivity, reduce lost time, mitigate injury claims and improve employee retention. Win-Win for everyone. After checking the stats on efficacy, it comes down to the application. In order for the implementation to be impactful, Global eLearning offers some incredible perspective and is a great place to start.

–Christopher Pappas
Founder of The eLearning Industry's Network
Get Started with Global eLearning Today