Skip to Content
Text to Speech & Voice-Over Services
Text to Speech & Voice-Over Services
In an era where both employees and clients are demanding information via multi-media formats, Global eLearning has rapidly expanded its voice talent pool and voice technology options to accommodate the growing demand. We offer human voice talent in over 100 languages.
Most of our voice projects involve the localization of audio/video/animation into another language. Since our highest objective is to make our client's experience hassle-free, we normally perform all the tasks leading up to the voice recording as well: transcribe the audio component in source language, perform a detailed time-stamp of the transcript, translate the script into new language, and then plan the new recording files for efficient integration into the authoring tool or video format.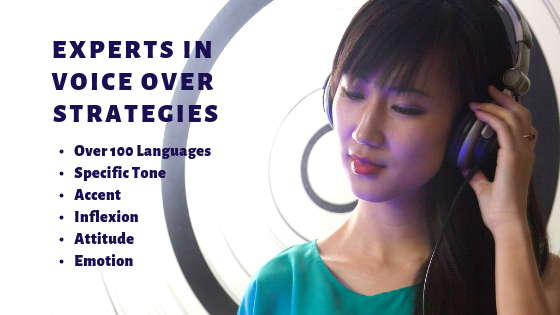 Text to Speech & Computer Generated Voice
Impressive improvements have been made in the last 12 months with Amazon Polly, Microsoft Azure, and Google GCP for generating natural-sounding computer-generated voices. There are several advantages with using these software systems that make them competitive for several forms of content even when the human voice sounds more robust and energetic. Talk to a Global eLearning Technical consultant to help with the decision of Text to Speech (TTS) versus human recordings.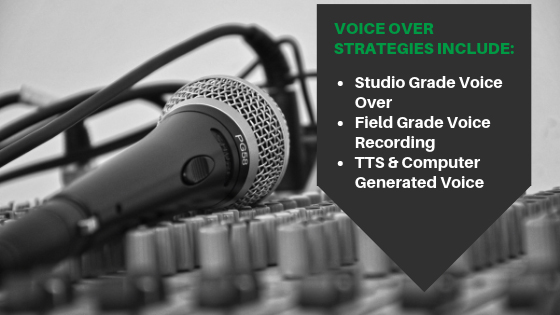 Studio Grade Voice Over
Our signature service is a studio-recorded human voice. These recordings are from professional voice talents, recorded in appropriate studios, distortion-free, and with very high standards of voice clarity.
Field Grade Voice Recordings
Some clients creating training modules for internal use only, do not require studio-grade recordings. These audio recordings can be linguists simply recording scripts with office-based computer software.
Get a Quote on Text to Speech Services!
Get Started with Global eLearning Today