Skip to Content
Testing and Certification
Testing and Certification Delivery & Localization

Our partner and preferred system is offered by Testrac who we found offers a uniquely reliable online platform that incorporates over 25 years of development and exhibits an excellent combination of security and functionality for clients and users.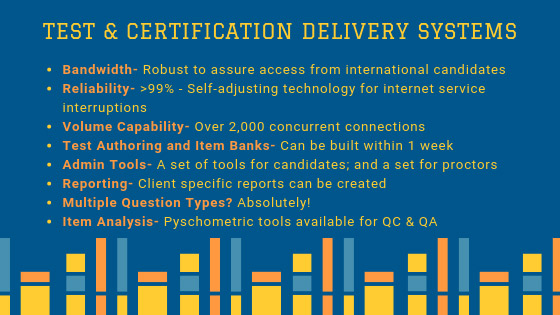 Test and Certification Delivery System
Beyond the test bank content itself, Global eLearning assists associations and professional organizations with the multi-media test prep material (usually eLearning modules) and the Question & Answer feedback loop required to assure that comprehension is taking place in the new culture. Ask a Global eLearning Technical Consultant about web-based Discussion Boards in which we provide 48-hour turnaround on the translation of questions and responses.
The Global eLearning platform is unique in its redundancy. Contact us – we would love to explain all of the reasons why Global eLearning and Testrac should be your go-to partners for global Tests and Certifications.
Test Bank Localization
For Global eLearning, the localization of Test Banks is more than a translation process, it is a journey of quality:
Questions/answers must be very clear with distinctions and nuances captured accurately
Linguists must be Subject Matter Experts (SMEs)
Collaboration with client to assure best test bank design and review process to minimize total localization cost.
Data security protocols to protect the Intellectual Property of the client
Manage source files (e.g., QTI) that are standard to the test development industry
Compliance with space and/or character limitations with translations
Appropriate loading of test banks into the test platform
Focus Group review of translated questions and answers to assure accuracy
"I would like to thank everyone at Global eLearning for being so responsive and helpful with our many questions…thanks for being a partner and appreciating the need for timely responses!" — Donna, Sr Program Manager, IJet
Localized Certification & Testing Programs Drive Revenue
There are nearly two million US-based professional associations and non-profit organizations. The vast majority of professional associations offer some type of certification for their industry or specialty. Now more than ever, professional organizations, industry associations, and educational institutions need to think global to maintain vibrancy and sustain growth. In this article, we will help you learn how to grow your association and membership through certification programs.
Get Started with Global eLearning Today