Skip to Content
Localized eLearning Content
Will It Engage Your Target Audience?
Global eLearning specializes in eLearning localization. We can identify areas to enhance your global learning initiatives and learner comprehension. Our native-speaking learning experts can provide valuable insight before the localization efforts begin. Contact Global eLearning today!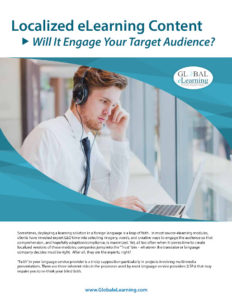 Engaging Target Audience
Download this Free Guide now to learn how you can improve the localization of your eLearning content and engage your target audience! In this free guide, you'll also learn:
The 3 inherent risks to look out for in localization processes
What metrics you should be using to evaluate localized eLearning content
3 ways to evaluate your content engagement
This free guide will also help you understand why it's important to evaluate and measure engagement on an ongoing basis. And, most importantly how to avoid the 4 things that stop learners from learning.
Download your free guide today!
Get Started with Global eLearning Today