Skip to Content
Learning and Development Localization
Do you translate or localize learning and development content for your organization? Would you like to streamline the time and consistency of these efforts? Download this Case Study to learn how!
Are you still tasking employees the same employees who create learning and development content with translation? Do your employees understand the difference between translation and localization? Do you encounter challenges with your learning and development localization processes like slow turnaround and inconsistency in translation? Download this Case Study now to learn how Global eLearning helped one of our clients overcome these challenges!
For more information on this topic, visit our resource library today!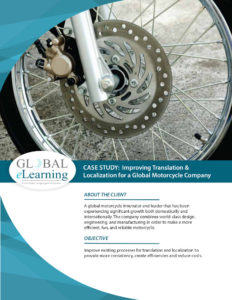 About the Client
A global motorcycle innovator and leader that has been experiencing significant growth both domestically and internationally. The company combines world-class design, engineering, and manufacturing in order to make a more efficient, fun, and reliable motorcycle.
Objective
Improve existing processes for translation and localization to provide more consistency, create efficiencies and reduce costs.
Get Started with Global eLearning Today